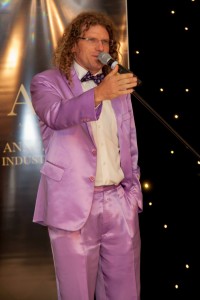 Steve Bowen has been an MC/DJ Entertainer since 1984 in Albury/Wodonga initially working at Night Clubs & Venues until he started his own company – Bowens Entertainment in 1989. Steve now MC's & DJ's at weddings and events all over Australia & internationally because of his 'unique' DJ Entertainer style.
Here's a snapshot of the journey that has made Steve Bowen and his performances so memorable at each of his events:
It was sometime back in the mid 1990's that I had a 'Lightbulb' moment (for me anyway). I went to see the Four Kinsmen perform when they came through town and I was amazed at not only the variety of entertainment at their show but also at how engaged the audience of 500 people were, with ages ranging from as young as 8 years old to 80 years young. They performed a variety of entertainment including life sized puppets, magic, comedy, skits, dance, singing, music, acrobatics and heaps of different props, it was fantastic!
It was after the Four Kinsmen Show that I started to ask myself "what else can I do with my performance other than just playing music"? That's when I realised there was a whole world of different things I could do and consider to introduce to my events. So I made a list of things I could do for a wedding such as MC, singing (not a great option for me lol), interaction with guests, magic, games, humour, photos, requests, juggling, fireworks and even origami with napkins etc. Not that I did all of these things but I wanted to see what the possibilities were to enhance the experience for the client.
This really made me think about how I could be different from every other DJ out there and how I could create my own unique style.
I always had a meeting with my clients before their wedding to discuss their music but it never occurred to me to ask any more about them until after my little 'lightbulb' moment. I started to find out a little more about their likes and dislikes and I started to ask this question that changed my business and performance forever…..
"What is the most important thing I can do for you at your wedding"?
Then I started to get some incredible answers from my couples that had nothing to do with the music I was to play. This really helped me understand that there were other things to focus on that were more important to the clients as well as good music (which I thought was the only import thing I had to consider previously).
This opened up a whole new world to my events especially weddings as well as my feedback from clients. I introduced MCíng into my events, don't get me wrong, I always thought I MCéd fairly well before but I was really only making general announcements, now I really MC with more confidence and a lot more background knowledge about my clients because I practiced, practiced and practiced every chance I got.
This was just one adjustment I had introduced to my performance that made a huge impact with my weddings. So I gradually introduced more and more new items (new for me) into every event I performed and I thought I'd share just some of them so you can consider what else you can do other than just playing music (like most DJ's) to create your own unique style.
Prior to wedding
Preparation is king – meet with your wedding couple on a number of occasions (at least three times where possible) to support them with the planning process and to foster creative ideas that suit their style and personalities.
Make contact with the bride and groom's parents well before the wedding day to introduce yourself and ask if they have any special requirements (the parents are usually blown away and are very appreciative to be thought of)
Contact the venue and meet with the wedding co-ordinator (where possible) to view the set-up area, load in/out requirements, noise restrictions (if any), parking availability, timeline and anything else you need to know.
Make contact with other vendors associated with the day eg. Photographer, Florist, Celebrant, Videographer, wedding decorator and anyone else you want to connect with.
Consider going to the wedding rehearsal, if you've never done this before, try it out and see what an impact it has on the success of the wedding. Not only is it great to see the ceremony format it gives you a chance to meet the wedding party and other people integral to their wedding day so on the actual wedding day you know a few people and they know you.
Wedding day
Set up nice and early so you have plenty of time for any challenges.
Go to the ceremony (where possible) and experience all that happens. Support them with their music if possible take a few candid photos.
Be the first to the reception – then you are able to control the room much easier. Welcome guests into reception or pre-dinner area and introduce yourself to guests with a smile. Show them to their seats, where the gift table is located, get them to sign the signature book and generally make them feel welcome (do this even if you're not MC)
If you are the MC – Open with a welcoming smile and let guests know the order of proceedings make people feel welcome and comfortable. Consider starting or ending your opening address with an ice breaker.
Introduce the wedding party into the room with the atmosphere to reflect the bride and groom's style (which you would have planned during your prior meetings)
Introduce the parents and even grandparents to the guests (especially if the parents have been involved with the wedding planning)
Give out music request forms to guests to get them involved with the atmosphere (if ok'd by bride and groom in prior meetings)
Take a few candid photos and display them (and the photos you took at the ceremony) on a TV screen or projector.
Involve guests and wedding party with some fun activities, quiz's, competitions or games.
Fun dances, dance-offs, conga lines, circular dances or other nationality dances or even make up some of your own (that everyone can do).
Switch the focus – make them feel involved and part of the entertainment.
Interaction with guests – how much is too little or too much? What are some things you could do that are subtle and yet create atmosphere in the room.
Do you use any props to enhance a mood or activity?
Creating special moments like bridal dance, father/daughter dance, mother/son dance, parent dance, ribbon dance, dollar dance etc.
Keep things F-U-N Flowing-Unique-Nice.
Get out from behind your console! You are not a jukebox… are you?
Smile, Smile & Smile some more, lead by example – if you're not having a good time, why should everyone else?
After Wedding
Always ask for feedback.
Contact wedding couple after honeymoon to thank them for choosing you.
Email feedback form or if posting feedback form send with reply paid envelope to ensure its return.
Email or Send copy of candid photos taken on day.
Once again these are just 'some' examples of what you can do for a wedding (and there are plenty more) that doesn't involve playing music but I don't under estimate how important it is to know your music and how crucial it is to the success of an event as well.
Obviously some things will work for some clients and not be appropriate for other clients. It's up to you to work out what suits you, your style and your individual client's requirements because every event is always different.
So I'll ask you one more time… "What else do you do other than play music?"
Best wishes with evolving into a DJ Entertainer or as I like to call it an 'EJ'.
Warmly,
Steve Bowen
Chairperson, DJ Alliance Australasia
Managing Director, Bowens Entertainment